Have you ever found yourself stopped on the side of the road after hitting an owl with your car? Have you discovered a small bird on your deck, injured after running into your window? Perhaps you've witnesses a fox with a limp or a moose become entangled in barbed wire. Maybe you're worried about that baby hare that's been sitting in your yard for several hours or need advice on how to deter skunks.
We have been helping people with these kinds of situations since 1984. Without a wildlife hospital to care for these injured animals, we will not be able to carry on in the same capacity. Your support not only helps the animals, but the people who find them. That person could be you!
Medicine River Wildlife Centre is a registered charity that rescues, rehabilitates and releases Alberta's wildlife. Since 1984, we have been caring for injured, orphaned and compromised wild animals of all stripes. More than 2000 patients (over 200 different species) per year from baby birds to magnificent moose and everything in between have found help in our wildlife hospital. That adds up to a lot of wear and tear on the original building, built in 1991 for very low cost. We had the best of intentions to take the old building down to the bare bones and renovate it, but it was beyond hope. The ceiling is caving in, the building floods in heavy rains, the foundation doesn't meet government codes and now the heating system no longer works. It will be easier, more cost effective and safer for patients, staff and volunteers to create a whole new building rather than try to rescue or rehabilitate the old one. It is time to "let it go" and begin anew.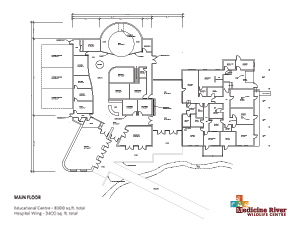 The new hospital will include new and improved intensive care units, quarantine room, patient receiving examination room and five intensive care units (ICUs). Much needed additions will include an oiled wildlife wash area, safe oil disposal, freezer room and larger education room. Built in power-washing, vacuum, and air exchange systems will offer a more safe and efficient facility. The new building will also be completely "green" with features such as solar assisted hot water heating and special "Glas Curtain" windows to name just a few. The new septic system uses no chemicals and results in water that is very close to drinkable.
What We Plan to Do
Build the best possible wildlife hospital for people to turn to when finding wild animals in need.
Create an education centre like no other with up close wildlife encounters, facts and displays to bring people and wildlife together, and a warm, natural atmosphere that makes you feel a part of something big.

Patients are brought to our Centre by members of the public who care deeply about their fellow creatures. The majority of the injuries we see are caused by human activities. Cars, windows, barbed wire, electrical wires, pet cats and dogs were not in Mother Nature's plan for her wild children. The very strategy that protects babies in nature – mother leaving for long periods so as not to attract attention to their location - puts them at risk for accidental "kidnapping" by well-meaning humans.
No matter how or why they arrive, our patients have one thing in common. No wallets or health insurance to pay their bills. They will not be contributing to the building fund, so we are turning to our fellow animal lovers for support. Construction has begun with plans to complete the hospital portion by early 2017.
Why We Need to Do It
The building is worn out. The old PVC in-floor heating has collapsed, there is extensive damage to walls, and the building floods in heavy rains.
To improve the energy efficiency, safety, and health of the buidling.
To provide more space to operate.
To allow for more efficient delivery of both hospital and educational programs.

We at Medicine River Wildlife Centre are also very proud of our "out-of-the-box" thinking. We strive to seek out new and innovative ideas to better the field of wildlife rehabilitation and make the lives of their wild charges better. One of these innovations is the development and research of "fostering" orphaned wildlife back to wild families instead of captive raising and releasing. This method reduces costs, puts orphans back into normal families, and best of all, leaves staff the time to spend with the critically injured patients and education programs.
Wildlife rehabilitation however is only part of our story. Every year we present formal education programs to schools, community groups, correctional institutions and seniors homes. We have also been hosting 12-15 international students every summer for the past 7 years. They help with the work while experiencing our unique Canadian landscape and wildlife up close. Other education programs take a wide range of forms from telephone calls and school work experience to events and one-on-one discussions.
Once the hospital is complete, the next phase is to build a new public environmental education Centre to replace the present one which is currently acting as a temporary hospital. The sooner we complete this phase, the sooner you can see for yourself the remarkable and rewarding work that we do!
How You Can Get Involved
Donate Now. "Facility Upgrade" will be pre-selected as your donation allocation.
Come Grow With Us! Contributors of $300/sq ft will have a tree planted in their name. An engraved rock will be placed at the base for donations of $25,000 or more.
Come up with a fundraising idea of your own!
How Will We Handle the Donations
All donations will go directly to project.
All money raised will be overseen by the accounting firm of ProVerus LLP in Red Deer, Alberta.
Members of the public are welcome to see the financial records.
Facility Upgrade Donors
Additional Info

Facility Upgrades

ABSON, AIMEE TODD
ADAMS, MELANIE
AGUAYO, RAUL ROSAS
ALDOUS, DAVID
ALGER, MARY (LIBBY)
ANDERSON, JACKIE
ANDERSON, KAYLEE
ANDERSON, MARION
ANDERSON, PATRICK
ANDREEFF, THERESA
APACHE CANADA LTD
ANDREW, NICOLE & MARK
ARMSTRONG, MARGARET
ARMSTRONG, TONY
ATHENE ENVIRONMENTAL LTD
AURUM LODGE (ALAN ERNST)
AUSTIN, SUSAN
AVILA, JANIE
BAHR, SUZETTE
BAKER, ORA
BAKKEN, EDNA
BAKKEN, MAUREEN
BALL, RUTH
BATTLE, TIM
BEARDEN, JANICE
BECK, BRUCE & KARON
BECK, LORNA
BENTLEY, LAURA
BERRY, KATHRYN
BIG 105
BLACKWELL, WENDY
BLAIR, PAT
BODNAR, RANDI
BOECKING, CLAUDIA
BONAVISTA ENERGY
BOSSERT, LORI
BOURGEOIS, JULIEN
BOWER, GAIL
BOWER, RUTH & DOROTHY
BOWERS, COLLEEN
BOYD, JUDY & LARRY
BOYD, TARA
BOZEK, LINDA
BRACK, ANDREA
BRIDGER, PAMELA
BRIERE, CHARITY
BRIGHT, SHARON
BROWN, MARGARET
BROWN, RICHARD
BRYANT, W. A
BUBAR, CAROL
BUGAJSKI, ALEKSANDRA
BURKINSHAW, PHIL & LOIS
CADDY, JOHN & COLLEEN
CAREY, TRISTA
CAREY, ZOE
CARR, BEVERLEY & LARRY
CARSON, JESS
CASEY, LEAH
CAUVIN, DIANE
CENTRAL ALBERTA MOPAR ASSOC
CHURCH, BARBARA
CLARK, AMANDA
COCKX, SHARON & DARREL
CONN, WENDY
CONOCOPHILLIPS CANADA
COOKSON, OLGA
CORMACK, BARBARA
CORSIATTO, PAM
COUTURE, PATRICIA
CRAMMOND COMMUNITY CENTRE
CROKEN, GLYNNIS
CROTHERS, PAT
CULSHAW, DOUGLAS
DAVIES, DANIELLE & SHAYNA
DAVIES, ENZIE & SYDNEY
DAVIES, IRIS
DAVIS, ANDREA
DAVIS, JOSEPH
DAVIS, TAMARA
DENT, REBECCA
DEVLIN, MELISSA
DIXON, GRANT
DIXON, MAUREEN
DJ WILL CONSTRUCTION
DOYLE, JOANNE
DRANSFIELD, SANDRA
DUBRULE, RASHELLE
DUDLEY, MELISSA
DUPERRON, LILLIAN
DYNAMIC MODULAR HOMES
EASTCOTT, JOE
EASTON, DALE & ALICE
EDWARDS, ANNE
EMBURY, FREDERICK
ESSO IMPERIAL OIL
EVANS, GIANNA & JAMES
EWEN, WANDA
FAAD
FARGEYS PAINT & WALLCOVERINGS SOUTH
FARION, CONNIE
FEDAK, GEORGE (IN MEMORY)
FEENEY, CHRIS & NOEL
FENGER, AMANDA
FENTON, DEEDRA
FERRIS, MELISSA
FETCH HAUS INC.
FETTIG, DEB & DAVID
FIFIELD, DONALD & CAROL
FITZGERALD, KAREN
FLAWS, KARI
FLEWWELLING, MORRIS
FLYNN, ROBYN
FOOT, SHERRY
FOREMAN, CATHY
FOULSTON, DALLAS
FROSTY'S BOBCAT SERVICE
FUJIMAGARI, JOHN
FULLER, ROSEMARY
GANSKE, DEBBIE
GARRETT, BRENDA
GAUDET, HANNE
GENERT, CHERYL
GILCHRIST, VERDA LEE
GINGERA, DAVID
GINTER, BRITTANY
GLB-TECH DESIGN LTD (GLENNA BLACKBOURN)
GM WILL CONSULTING LTD
GOLBY, SUZANNE
GOLDSACK, JENAN
GOLF A KID TO CURE
GOUGEON, PEGGY & CURT
GOULD, NEAL & LEANNE
GOWLING, JOHN & BRENDA
GRAHAM, DIANA
GRAHAM, JIM
GRANT, JAMES & KATHERINE
GRAYDON, JENNIFER
GREBA, JULIANNE
GREER, GORDON
GUSTAFSON, JOE
HAGEL, CHARMAINE
HAGELL, ELIZABETH
HAMILTON, R.J
HANSEN, LEE
HAUS, ANNE
HAWKES, SUZANNE
HELFRIC, FERNE
HEON, MAUREEN
HERMARY, MAUREEN
HERMARY, MIKE
HERRON, MARILYNNE
HIBBS FAYE
HIGGINS, JILL
HILLSDOWN WOMEN'S INSTITUTE
HINGST, GARETT
HIRSCH, CORBY & SARAH
HODDER, NATASHA
HODGSON, BRIANNE
HOEDEL, NANCY
HOFFMAN, A
HOLDER, KATHY
HOLMBERG, SHERYL
HOLMES, TRISH
HOLOBOFF, HAZEL
HOOPER, RUTH
HOPE, DUNCAN
HOWATT, ELWOOD & ELAINE
HOWES, NORM
HOWORKO, DIANE
IASTELLA, SOPHIE
INGLES, JAMES
INNISFAIL CHAPTER #37, ORDER OF THE EASTERN STAR
IOSUB, VIOLETA
JACOB, JOOEY
JAGER, SHARLEEN
JANZEN, MIKE
JENNIFER L CRAGG PROF CORP
JENNIFER POLYESTER FOUNDATION
JENSEN, JANE
JG SQUARED CONSULTING LTD
JOHANNSON, BRANDON
JOHNSON, EVELYN
JOHNSTON MING MANNING LLP
KAISER, KATHRYN
KARBUTSCHEK, JANIECE
KAY, DENNIS
KELLY LEADERSHIP AND SAFETY CULTURE LTD
KELLY, TODD
KENT, JACQUUELINE
KIDD, SHEILA
KLEEBERGER, MYRTLE
KOLTON, ROB & CATHY
KOLYBABA, MARLA
KOOYMAN, STEPHEN
KREPYCH, HELEN
LABERGE, JULES
LACHANCE, ROSEMARIE
LAKE, HUBERT & ELIZABETH
LAMBERTSON, JUDY
LAMBRIGHT, KRIS & CHARLES
LANDER, MARY
LAWRENCE, DONNA
LEE, CANDACE
LEFAIVRE, PAULA
LEYDON, SARA
LINDBLAD, JOHN
LOCKHART, AMY
MA, DAVENA
MACAULEY, CHERI
MACHACEK, SHEILA
MACK, ANDREW
MACKENZIE, ANDIE
MACLEAN, BREANNA
MACPHERSON, SHARON
MADSON, JEANETTE
MARKOSKY, WENDY
MARKS, VICTORIA
MARR-LAING, LISA
MARSHALL, RHONDA
MARTENS, SHANE
MASUCH, GERALD
MAXWELL, DONNA
MCDONALD, ROBIN & SHANNON
MCINENLY, CORINNE
MCKENNY COLIN & FULFORD, JULIA
MCKERNAN, DENNIS & NANA
MCLEVIN INDUSTRIES
MCLEVIN, LINDA
MERKLIN, DONNA
METHERELL, GARY
MIER, LINDA
MILLER, BONNIE & GEORGE
MILLING, GAIL
MITCHELL, MARIE
MOLGAT, PAUL & GLENDA
MOORE, JOSEPH
MORRIS, SUSAN
MORRISON, KAREN
MUISE, CHRISTINE
MULDER, LYNNE
MULLIN, BONNIE
NAUTA, CHERYL
NEW, ALISA
NEWMAN, BONNIE
O'CALLAGHEN, PATRICIA
OLESEN, MAYETTE
ORR, DENISE
OXTOBY, MARGARET
OXTOBY, ORVILL ELDON
PAIDEL, S.M.
PALLISTER, MYRTLE
PARKER, GORDON & LOUISE
PARKER, LORRI
PARKLAND LLAMA & ALPACA CLUB
PARSONS, LEN
PEARMAN, MYRNA
PETTY, SHIRLEY (IN MEMORY)
PHILLPOT, NORM & BEULAH
PIKE WHEATON CHEVROLET LTD
PIKE, NICOLE
PIPER CREEK PET RESORT
PITTENDREIGH, MELISSA
PROPERTYGUYS.COM
RABSKI, DENISE
RACE-TREHERNE, NOLA
RAINEY, RICHARD
RANGE ROAD ENTERPRISES LTD
RANGER, SHAWN
RED DEER RIVER NATURALISTS
RED DEER TWILIGHT HOMES FOUNDATION
RED ROSE FARMS LTD
REIDY, JILL
REYNOLDS, ELIZABETH
RICHARD POCHYLKO ENTERPRISES LTD
RICHER-POTH, MEGHAN
RIEDNER-BRUNNER, KATHARINA
RINGS, MARC
RITCHIE, AMANDA
ROCKY WORM RANCH -SANDRA SHORTT
ROGALCZYK, TANYA & LENNY
ROHRER, JEFFREY
ROYAL LEPAGE - JEFF GLOVER
SAHLI, D & J
SALAZAR FILMS
SAUNDERS, BRETTON
SCANLAND, GERRY
SCHINNOUR, GEORGI
SCHMODE, LEN& NANCY
SCOTT, RON & SHARRI
SCOTVOLD, LEXI
SEBBELOV, MIKE
SETTERS, J. PAT
SHATFORD, GWEN & ED
SHCHACKER, DEAN
SINCLAIR, ELIZABETH
SJARE, HEATHER
SMITH, EVE-LYNN
SMITH, JOYCE
SONNENBERG, GERI
SPETA, MICHELLE
SPRUCE VIEW & DISTRICT LIONS CLUB
ST PIERRE, PATTI
STANIEC, JILLIAN
STOKOE, JEFF
SWAINSON, SUSAN
T. KENT CHAPMAN PROF CORP
TEERTSTRA, ANGELA
THAIN, MICHAEL & ELIZABETH
THE PLACE TO MORTGAGE INC.
ROTARACT CLUB OF RED DEER
STEWARDSONS, THE
THOMAS, CATHERINE
THOMPSON, JEFF
THOMPSON, LINNEA
THOMSEN, ANNA
THORP, LAURA
TJ PAVING LTD
TMG - NICKI PIKE
TODD, CRAIG
TOEPFER, DOUG
TOFFAN, SHARNA
TRACY, BARD
TRANSCANADA PIPELINES LIMITED
URE, NANCY
USHER-HAMELUCK, NATASHA
VALKENBURG, MARILYN
VAN ARRAGAN, STEVE
VETTER, MARJORIE
VICKERS, TERESA & JAMES
VOPNI, JENNY
VOPNI, ZACKERY
WALKER, KAREN
WALLIS, IAN
WARD, KATHY
WARNEKE, JOHN & JEAN
WATSON, J
WEBB, JAMIE
WEDDELL, BARBARA
WEST, NICOLE
WEST, TRISH
WETTLAUFER, EDWARD & VIOLA
WFG - DAN DYCK
WHITFORD, ROBIN
WIERENGA, TANYA
WILD, DAVID
WILKIE, SHARON
WILL, GARRY
WINDRIM, DAVID & JUDITH
WOOD, RONDO
YAMNIUK, JOE & NANCY
YEVSTROPOVA, SVETLANA
YOUNG, ERIN
YOUNGER, IAIN
ZAPISOCKY, CHRISTIE
ZED RESOURCES
We have been building this charity from a small, backyard operation to a thriving and vital community service for over 30 years and we plan on making it even better over the next 30 years! We are no strangers to challenges but we like to approach them head on, with honesty, and out-of-the-box thinking.
Complete facility plans and details are available upon request. Please contact us for further information. Thank you for your support!