MRWC News
Story by Judy Boyd
On Oct 8, 2013 one of our volunteers went out to the Edberg area to check on an owl that had been caught on barbed wire. We were all really excited when we realized that this was a Barn Owl, the first one to ever be treated at Medicine River!
To our knowledge, there has only been one other Barn Owl that was brought to a rehab centre in Alberta and that was a DOA (dead on arrival) case that came into the Birds of Prey Centre in Coaldale. According to Alberta's Status Biologist, Dr. Gordon Court, this is only the third offical recording of a Barn Owl in Alberta. At least a decade ago, someone phoned into the Kerry Wood Nature Centre and described a Barn Owl. This sighting was never followed up on, but a few years ago, a report came in of a Barn Owl in the Rimbey area. I never saw the bird but I saw pictures and it definitely was one.
Being our first, we are learning all kinds of new things about this species of owl. My first impression was amazement at how small it is. It came in weighing 370 grams. Sibley's Guide gives the average weight of a barn owl as 460 grams. So this guy is underweight and we treated him for that. Actually I don't know what sex it is. Both males and females weigh the same amount.
I've always found that different species of owls react differently to rehab. Snowy Owls always bite. Great Gray Owls always clench their beak shut so in order to get any medicine down their throats you have to pry their beak open. If you have a Great Horned Owl with attitude, you have a female. The males are much more mellow. This Barn Owl tended to hold any medicine or fluids in its throat and wouldn't swallow. Because we've only dealt with the one, we don't know if this is typically when rehabbing this species.
EDITOR"S NOTE: Unfortunately, we were not able to save this owl. The severe emaciation was too far progressed for us to stop it. We did earn a lot from it's short stay with us and enjoyed the rare chance to be so close to this amazing bird.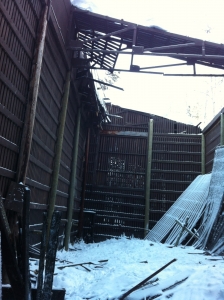 On January 5, 2014, MRWC staff faced a new challenge. An unusual build-up of snow, high winds and a fallen tree all added up to cause one quarter of the eagle enclosure roof to collapse, killing two eagles, injuring one and leaving us with the reality that we will have to raise the funds for a new enclosure.
We are happy to report that the one injured eagle did make a full recovery! After staff dug him out of the snow and lumber when only his foot was exposed, he is lucky to be doing so well. He has no broken bones and was only suffering from shock and cold. The other five eagles in the enclosure were not affected and have been moved into the north side of the cage which has been deemed stable.
A re-build the eagle cage fund has been set up and a plan is being formulated for a new and improved structure. If you would like to contribute, please mark your cheque donation as "eagle cage fund". You can also donate by clicking here and select this project in the donation allocation drop-down box.